On Your Mark, Get Set, Read
We are getting ready to start our summer reading program! This year the theme is all about sports, movement and eating healthy. We are connecting with the Berkshire library and the Newark Valley School district to help make the program successful. We are starting off with a visit from the Game Truck. You will be able to try out a variety of video games on different gaming platforms.  Check it out on June 30th from 5pm-8pm. While you're here make sure to check out our collection of books, and start off the reading challenge right!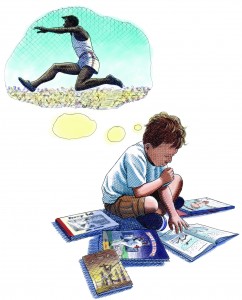 We will have all sorts of fun activities throughout the summer both here and at the Berkshire Free library. On August 11th you will be able visit the school for more books and to visit the Physics bus.  Visit us often to track reading minutes on the Scholastic website using our public computers and internet. Get the chance to win prizes and receive a free book at the end of the program.
We will continue to post upcoming events here, and at the library.  If you have any questions click here to send us a message.
The summer reading program is funded by the Bernard Carl and Shirley Rosen Fund: Community Foundation of Tompkins County and by the BOOKS Program with Senator Akshar in partnership with Morrisville State College.